What happens when a lead registers
Step 1 A lead will initially fill out this form partially or completely. Then they will click on: Finish & View Photos to complete their registration.
During this process, you as an agent will simultaneously receive a notification regarding the new lead via email and often also via SMS. The lead will also receive their account activation email.
That e-mail includes the link to validate their e-mail address, as well as the link back into your website.
Step 2 Upon completing that registration, there is the questionnaire that pops up. This questionnaire is customizable, and you can turn it off if you don't want it and you can also change the questions.
You can also change which tag may or may not be applied to a lead depending on how they answer the questions.
They can close this questionnaire right away without answering any or all of the questions, and still have access to the listings on the website.
The

questionnaire

is going to reappear encouraging the lead to answer all or remaining questions.

Please keep in mind that if they submit an empty, or half-empty questionnaire, it will not reappear on the website once they visit it again.
Step 3 After a lead signs up on the website they will also have access to all the photos and listings.
Step 4 The system also automatically monitors these activities, by default i.e. how many listings they are looking at, which ones, how often, how many photos of that listing, as well as if they like a property. You as an agent will receive a notification about that, but it will also be visible in the backend.
That notification is going to by default come by e-mail. You can however change your notification settings to be e-mail, text or a combination of the two, which we will cover in one of the next sections.
Step 5 After the lead has been created automatically by signing up onto your website, it's going to show up in the CRM system.
Right away, we can see that there's two tags associated with this lead.
These tags are associated with the questionnaire that the lead fills out at the beginning.

For example: If the lead indicates in the questionnaire that they are a First Time Buyer the following tag will be applied.
However, if they indicate that they still need a Pre-Approval, the following tag will be applied.
These tags are applied to the leads account instantly, so you have automatic visibility of this information.
Step 6 Once you click on the lead's name and open up the lead, the first thing that's going to happen automatically is the account activation e-mail.
This email is sent as soon as they register, and in this case the email was actually delivered to the recipient, it is going to be displayed as valid.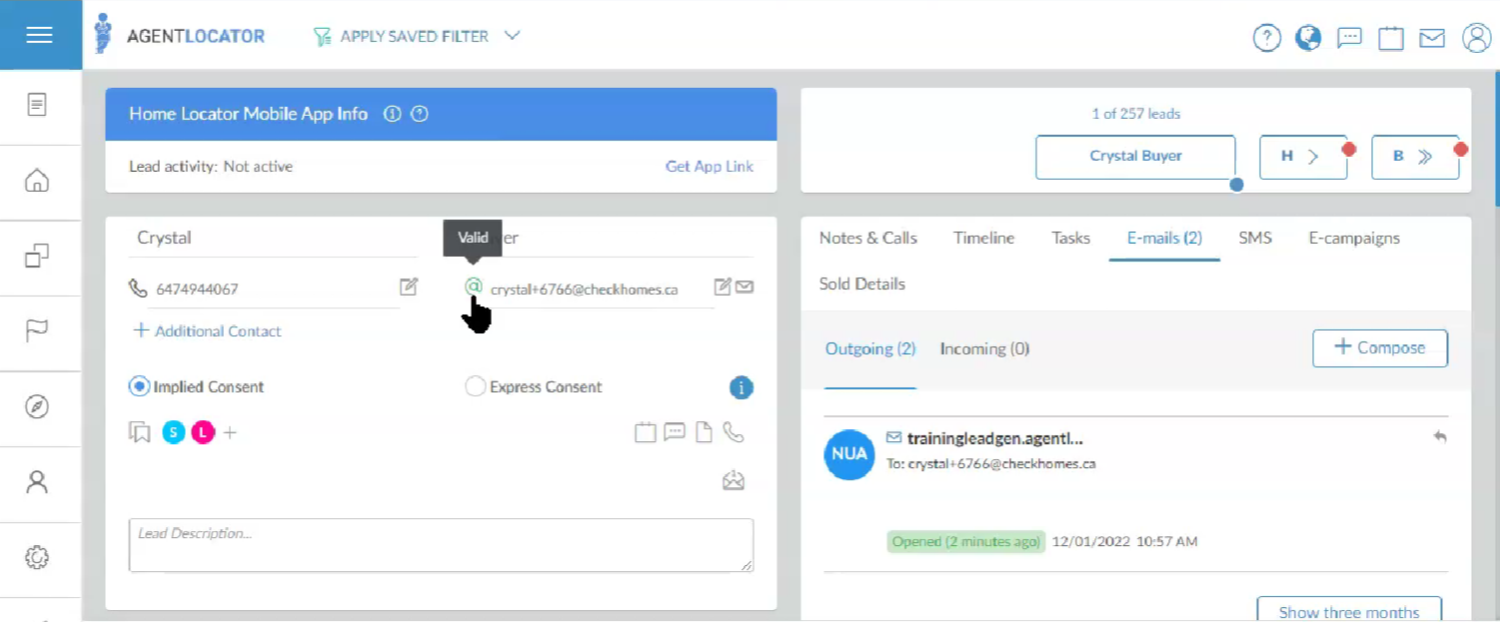 However, if this email happens to bounce back, you will see that it is red and invalid.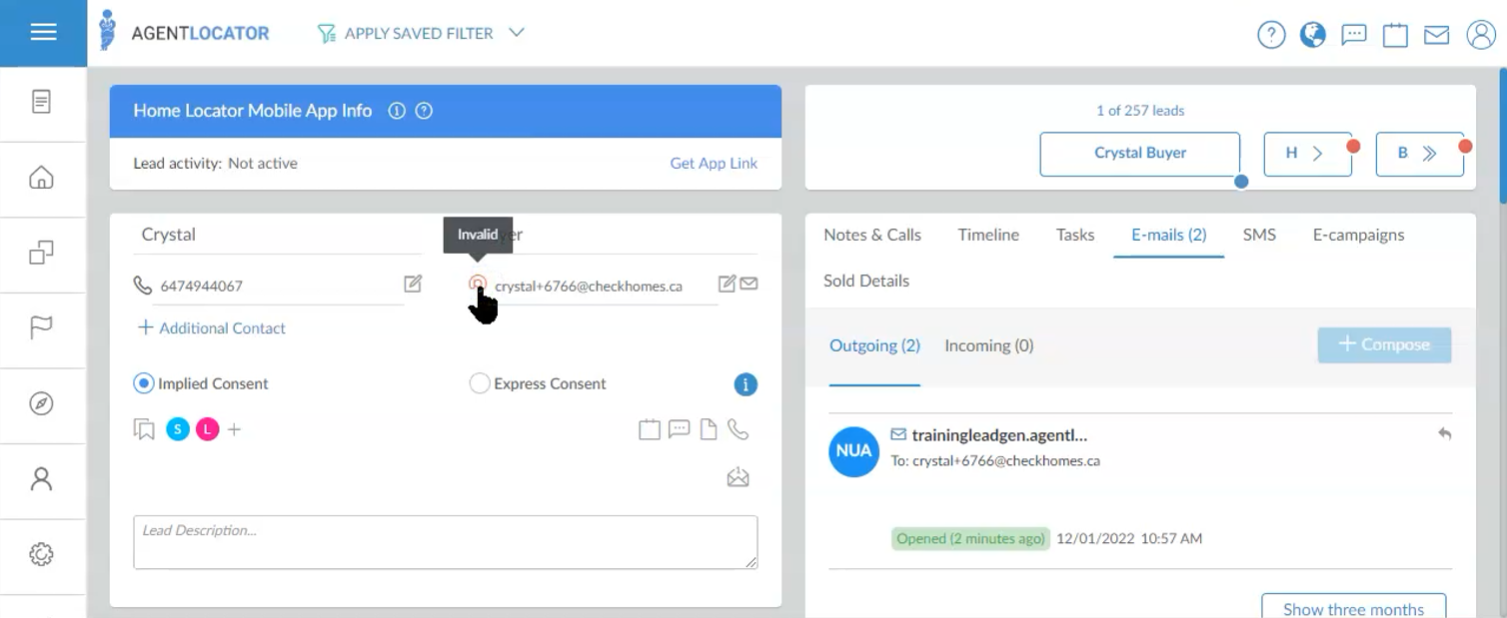 If this happens, just do a quick look over that e-mail address, to see if you can spot any possible spelling mistakes i.e. @gmail.co instead of @gmail.com. It happens more often than you think :)
If you do, simply make your edits and resend this e-mail by clicking on the little envelope right next to it.
This is going to resend the activation e-mail, what is automatically going to result in a valid e-mail address.
Step 7 In addition to that, your lead is going to be automatically added to the SMS campaign that is going to nurture your leads for more than a year.
Within a minute of that lead registering, they're going to get an auto-responder text message that is acknowledging their registration, giving them the option to opt-out of SMS communication, and providing a link to download the Home Locator app.
To learn more about the Home Locator app, watch the video below:
Below you will find the instructions on how to download the Home Locator app:
The process is the exact same whether you're trying to share the app with a lead or yourself. If you'd like to send yourself a link to browse the app, you can create a test lead on your website.
In case you're not able to see the HomeLocator link section in your CRM, please reach out to support@agentlocator.ca
Step 8

Another text message is sent five minutes after the first text message letting them know that the automatic search has been created as well as asking them a question about their search Another. This Data is pulled automatically based on the data that they viewed on the website.
In case a text message is delivered, you'll notice a couple of things in the system.
i.e. the pipeline will move to: Tried to contact
The lead's phone number will be automatically marked as: Valid, in case the message was successfully delivered.
If the lead replies to this text message, what's going to happen is the pipeline will automatically transition to Made contact.
If the text message says: Failed, the phone number is actually going to be marked as unknown.
In this case, if the phone number looks like a valid number, call the lead.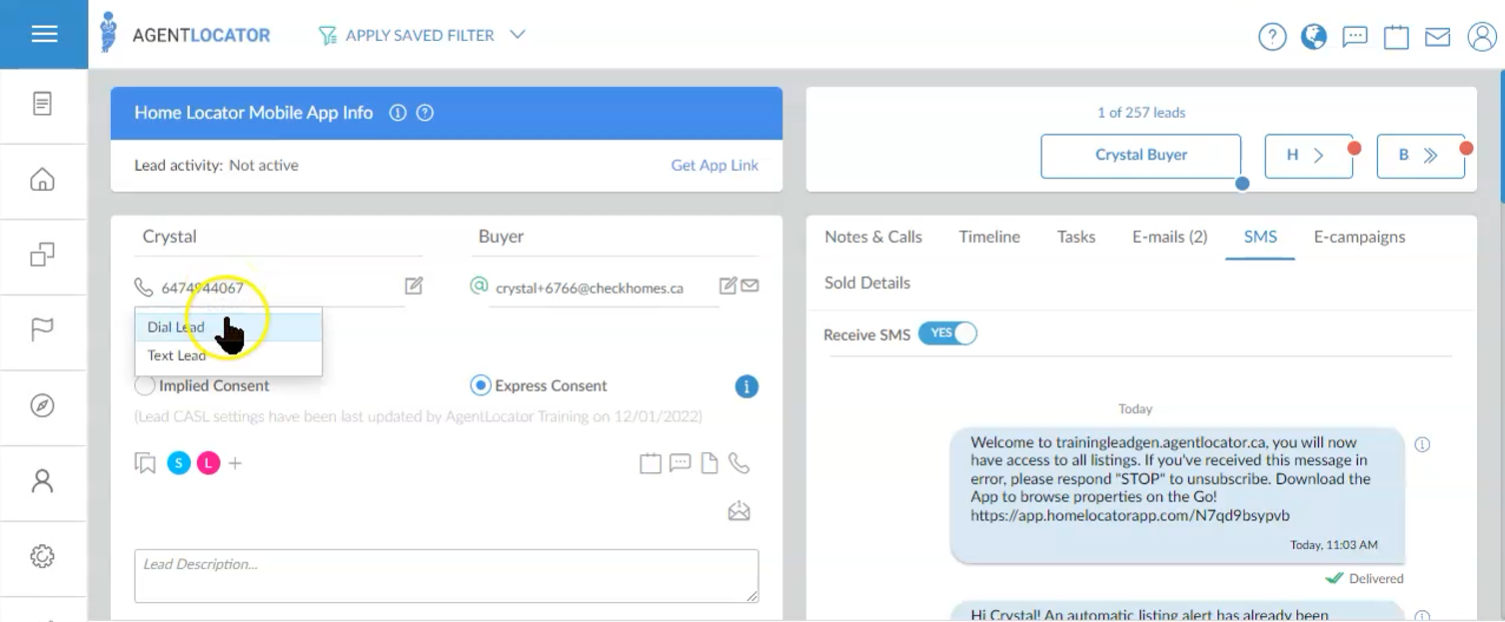 But if the phone number is obviously invalid, you will mark it as invalid by clicking on it, as you can see on the screenshot below.
The system then prompts the lead to enter a valid phone number so they can proceed with searching for listings.
Step 9
Your
lead will also be automatically added to Saved Listing Searches.
You can, of course, add additional searches for each lead by going to: Add New Search.
However, you are also able to edit those searches, and to do so, go to: Edit.
In case the lead does not enter any criteria on the website, it's essentially going to base it off the location, the type of home, as well as the price point.
If the lead was on the website and they happen to provide several bits of information, they used filters, and then signed up, all of the filters that they utilized will be part of their saved search.
In these settings, you also have the ability to make changes as you see fit.
You can increase the frequency of checks to see if there are any new listings or decrease the number of listings that they're getting.
Note - The system is only going to send an e-mail if there is a new listing since a previous e-mail. We're not spamming them with repetitive listing e-mails of all the same properties.
To sum up:
Step 1 The lead is going to come into your system.
Step 2 You are going to get notified.
Step 3 The lead is going to get an e-mail.
Step 4 SMS Campaigns are going to start for them automatically.
Step 5 They are going to receive listings from you.
Step 6 You are going to be able to nurture those leads through listings alerts.
Step 7 And finally based on their activity you are going to be able to know who to contact and when.