How to Call your Lead
There are two methods for logging your calls when reaching out to the leads within your database.
1. The first method would be using the dialer within the CRM
Step 1 To use the dialer, you're simply going to open up the lead, click on the lead's phone number and then on: Dial Lead.
Step 2 When you do this, a little pop-up will appear, this is where you're going to initiate your call and log it.
Note - Allow it to use your microphone so that people can hear you.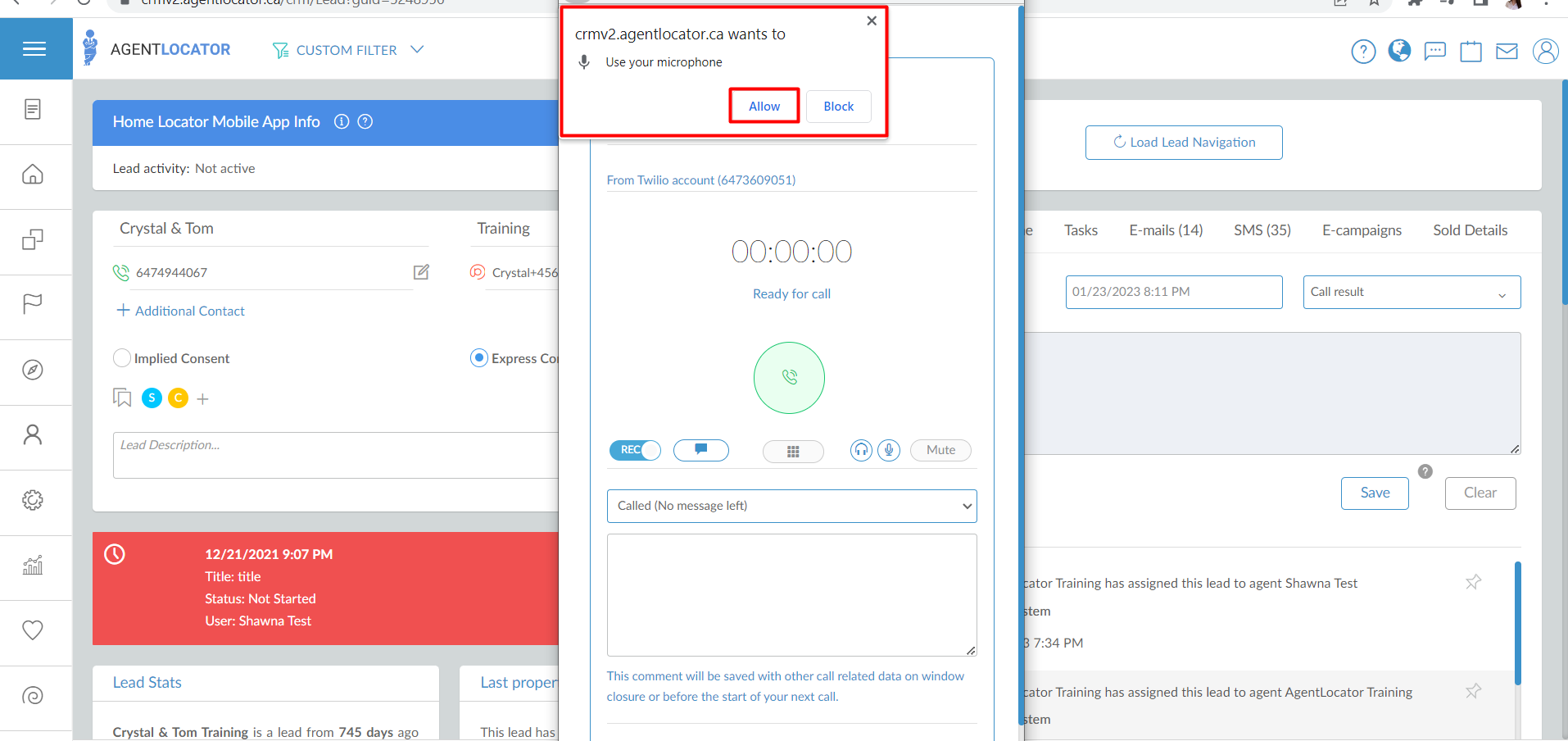 Step 3 Then all you have to do is click the green button to initiate the call. It'll allow you to see that it is connected, and the timer will start.
Step 4 If you wish to disconnect hit the red button, and before you save and continue, you will want to log your call results.
Step 5 Your call results are located here.
Call results that you can select are as follows:
Wrong number

Talked to Lead

Lead Called in

Opt Out - Do not call

Lead is Not There

Called (no message left)

Left Voice Mai

l
These call results will also be directly connected to your pipeline. So, for example, if you a call a lead and leave a voicemail, if your lead was currently on not set pipeline, it will move to tried to contact.
Note - Your pipeline will not revert back. So, if you called and there is no message left and they are already on: Made contact, the pipeline will not move backwards, it'll only ever move forwards.
Step 6 Here in the: Notes and Call section, you'll see that the call was logged.
When using Twilio, the call will be recorded and logged in your CRM system as well.
2. The second method would be using the: Notes and Calls to log in your calls manually.
Step 1 Click on: Call. However, take notice that there is a difference between a note and a call so ensure that you are logging your call as a call.

Step 2 After that you have the option to backdate your call, so you can select the exact timestamp that you wish to have for that call.
Step 3 You also have your call results. These call results will still have the same impact on your pipeline as if you were using Twilio.
Step 4 Be sure to leave a note every time you speak with a lead so that you always have valuable information about them on hand.